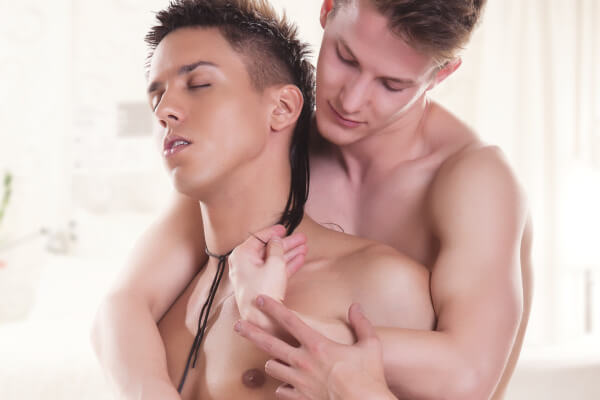 Quickies are great solutions to several sex problems:it spices things up
No time for long romps in the hay
Nosey kids in the vicinity
The urge is so strong there's no time to get to a bedroom
You want to add some spice to your sex life
Depending on your adventure levels, there are several places you can run to when desire hits. Also, keep in mind that not all places will allow for straight-up, trousers-down penetration – some will logistically only allow for oral maneuvers or hand-jobs.
If you do go for full-on sex, wear appropriate clothing (like easy to hoist skirts etc.).
30 PLACES FOR QUICKIE SEX
---
1. BACK SEAT OF YOUR CAR – Choose your location and go for it. But be careful it's not private property or there could be trespassing charges. If you're a bit nervous, try at night where the shadows are your friend.
2. FRONT SEAT DURING GRIDLOCK – There won't be any hardcore hanky-panky, but oral or a hand job will make rush-hour feel like the Indie 500.
3. BACK SEAT OF TAXI – The advanced level past your own transportation. Maybe the taxi driver will appreciate the show.
4. IN A PARKING LOT – Perhaps you don't trust a moving car. Try the back section of a paved paradise where no one bothers to park unless they're health nuts or it's Christmas.
Lights, camera, and get some action
5. DARK THEATRE – It's even better if you choose a show that won't draw as many people.
6. FITTING ROOM – Especially if they aren't separated by genders (or if they are, the thrill might add to the excitement).
7. WORK STORAGE ROOM – That floor or desk in that certain closet everyone knows about. You know, the one without any windows and the convenient lock. Careful of staplers.
8. CLOSET – Simple and quick and a great alternative to a storage room.
9. WEDDING HOTEL ROOM – If you're getting tired of the terrible DJ, nip up to your hotel room for some 10-minute nooky and be back down before you can say "chicken dance".
10. ALLEY – Dirty yes, and probably not the sexiest if iit smells of urine, however, there is the occasional clean wall where you can hoist your skirt, drop your pants, and go to town.
11. ELEVATOR – Service elevators are the best, or at least public ones during slow times. Also, remember that hitting the emergency stop button usually triggers an alarm. Not to mention the security cameras. But if you like the thrill of being watched, caught, or recorded, it might be for you.
12. YOUR OFFICE – Some people are lucky enough to have their own workspace.
13. DRIVE-IN – These are dying out. If you have one near you, don't miss the opportunity!
14. NIGHTCLUB – Besides the back alley, there are shadowy booths, under tables, and the bathrooms stalls.
15. LONG DISTANCE BUS - It's more of a mile-long club than a mile-high one. But long nights along the highway leave plenty of room for fun.
16. HOURLY RATE MOTEL – Depending on where you are, they might be abundant or hard to find. But if you do manage to come across one, take a mental note for the next time you're horny.
17. HOTEL BATHROOM – And not the private ones that come with your room, but the public ones near the all day brunch buffets.
18. STAIRWELL – Stick to the higher floors if you want to remain undisturbed.
19. CEMETERY – For those who like things that go bump in the night.
A spooky cemetery isn't just for Halloween
20. HIKING TRAIL – Watch out for poison ivy and prickly bushes.
21. BACK OF THE LIBRARY – Or wherever they keep the encyclopedias – cause no one goes back there anymore.
22. UNDER A RESTAURANT TABLE – Just make sure it's got a long tablecloth. Handjobs are the easiest.
23. FARMER'S FIELD – People tend to think of cornfields (because they provide the best cover). However, any field will work fine as long as it provides camouflage (and there are no harvest machines coming your way).
24. BALCONY – It's a great medium between privacy and exhibitionism.
25. IN YOUR OLD SCHOOL – Extra points if it's on the principal's desk.
26. PHOTOBOOTH –You can also take some photos as a memento.
Who cares if sand gets in weird places!
27. THE BEACH – Rolling dunes provide plenty of private hot spots.
28. SHOWER – The water will provide some cover sound.
29. PARENT'S HOUSE – Remember when you walked in on your parents? It's your turn for some revenge.
30.CONCERT – The good news is you probably won't be alone and will see some other couples going at it.